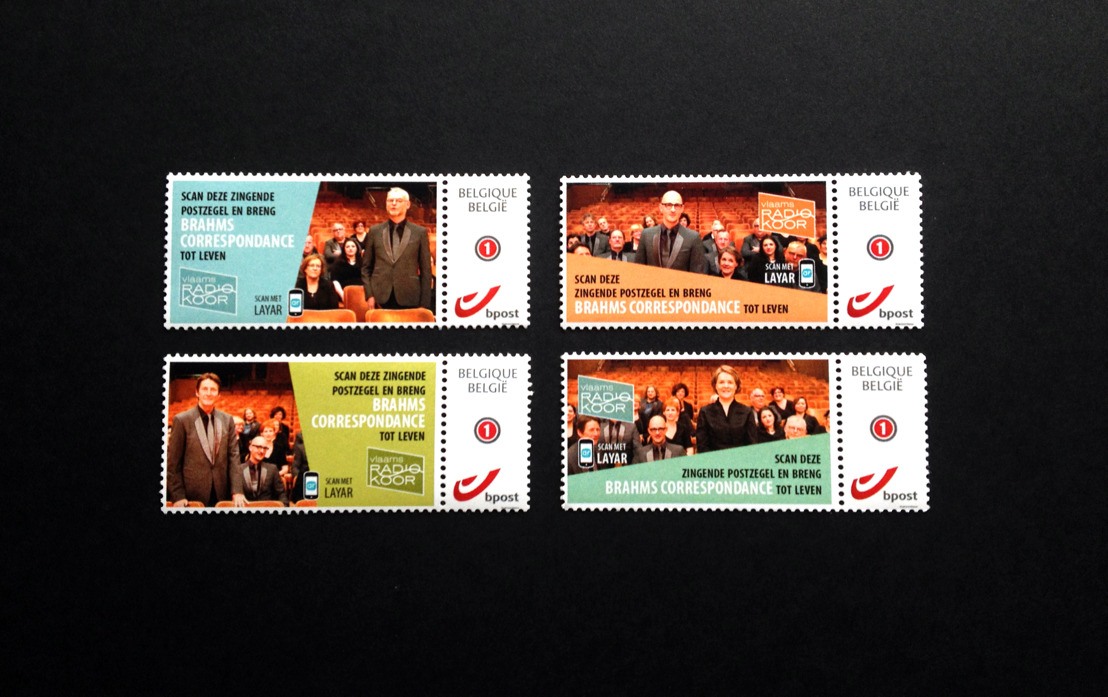 Havas Worldwide Brussels & Flemish Radio Choir to launch 'Singing stamp'
Monday, May 5, 2014 — Interactive postage stamp promotes concerts about the intimate correspondence between Brahms & Clara Schumann
Havas Worldwide Brussels developed 'singing stamps' for Brahms Correspondance, a series of concerts by the Flemish Radio Choir. The intimate correspondence between Clara Schumann and Johannes Brahms is the common thread in this production.
In the light of this correspondence, the traditional postage stamp was reinvented.
The result: an interactive 'singing stamp' that you bring to life using your smartphone. By scanning it with the Layar-app, a 3D-stage appears on your screen in augmented reality, followed by the choir that starts to sing a preview of the production.
The 'singing stamps' are produced by Bpost and are available in 4 different varieties. They will appear on all the correspondence of the Flemish Radio Choir and its partners. It's also possible to get your own stamps on the Flemish Radio Choir website and at the venues.
Info:
- Download the Layar app: via www.layar.com/products/app (available for free on Android, iPhone and Blackberry)
- Order stamps: 10 for a sheet of 10 (shipping incl.) via tickets@vlaamsradiokoor.be or at the 'Brahms Correspondance' venues from the 20th to the 31st of May.
Brahms Correspondance:
From the 20th to the 31st of May, the Flemish Radio Choir will bring a series of shows revolving around the correspondence between Clara Schumann and Johannes Brahms. The choir will be directed by Nicolas André. Playwright Maud Vanhauwaert created the concept behind the production. The roles of Johannes Brahms and Clara Schumann will be played by actors Wim Danckaert and Mieke De Groote. Because they are both very fond of Brahms' music, they are looking forward to this production in which spoken word and music are united. Pianists Jan Michiels and Inge Spinette are also contributing to these unique concerts and they will bring works for piano four-hands from Brahms extensive œuvre. Tom Lagast created the lighting concept.
For more info: www.vlaamsradiokoor.be
Credits
Client Contact: Nico Moernaut, Veronique Bossaert
Music Director Flemish Radio Choir: Hervé Niquet
Agency: Havas Worldwide Brussels
Executive Creative Directors: Tom Loockx, Jorrit Hermans
Creative Teams: Thea Van Damme, Lies Vandenbergh, Julie Vanderbeck, Matthew Lootens
Graphic Designer: Julie Vanderbeck
Account Manager: Ellen Sonck
Account Executive: Vicky Cloosen
Head of Digital: Yann Balbaert
Digital Design: Nicolas Willot
Project Manager: Olivier Janssen
Traffic Manager: Regine Heymans
Camera: Marcel Lennartz
Photographer: Marcel Lennartz
Sound Production: Motormusic